Answer
At the level of the iliac crest, the descending colon becomes the sigmoid colon. The mesosigmoid has variable attachments to the posterior body wall; most often, it is attached diagonally downward toward the right. Cadaver studies in the United States found the average length and breadth of the sigmoid mesentery to be 7.9 cm and 5.6 cm, respectively (see the image below). [5] Cadaver studies from the Middle East reported a mesenteric breadth of 15.2 cm. This difference may be developmental or may reflect differences in diet.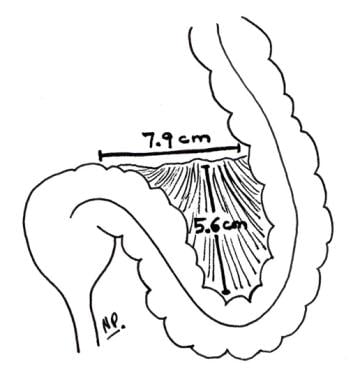 Average measurements of sigmoid mesocolon.
---
Did this answer your question?
Additional feedback? (Optional)
Thank you for your feedback!