Answer
The embryonic right colon typically has a mesentery that eventually fuses to the parietal peritoneum; this fusion results in adherence to the posterior abdominal wall. Developmental variations in the degree of fusion lead to differences in the mobility of the ascending colon and the cecum (see the image below). Hendrick, in a review of cadaver studies, found that 10-25% of the general population had a propensity for cecal volvulus on the basis of the length of the colonic mesentery. [4] The long mesentery of the ascending colon results in a mobile cecum.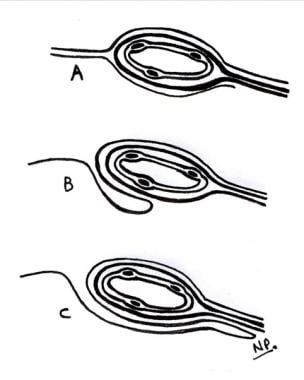 Variable degrees of attachment of ascending colon to abdominal wall by reflection of overlying parietal peritoneum. (A) Normal attachment. (B) Reflection of peritoneum to create paracolic gutter. (C) Mobile colon with reflection of peritoneum to create colonic mesentery.
---
Did this answer your question?
Additional feedback? (Optional)
Thank you for your feedback!