Answer
Intradetrusor injection of botulinum toxin A may be performed via rigid or flexible cystoscopy, depending on the urologist's preference and the patient's sensory level. Before injections are initiated, the injection needle should be filled (primed) with approximately 1 mL of reconstituted onabotulinumtoxinA to remove any air (the exact volume will depend on the needle used). Sufficient saline should be instilled into the bladder to achieve adequate visualization for the injections, but overdistention should be avoided.
The needle is inserted into the detrusor muscle to a depth of approximately 2 mm. A total of 30 injections (each containing 1 mL, or approximately 67 U of botulinum toxin A), equally spaced about 1 cm apart, are made into the dome, posterior, and right and left lateral walls of the bladder; the trigone is spared (see the image below). The bladder is then emptied, and the patient is observed for at least 30 minutes after injection.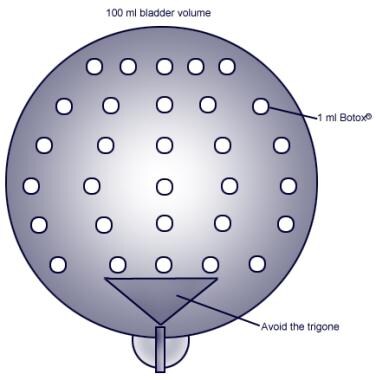 Injection sites using minimally invasive outpatient technique. Flexible cystoscope with superfine 27-gauge disposable needle is used to inject onabotulinumtoxinA (BOTOX; Allergan, Irvine, CA) into bladder while avoiding trigone. At equally spaced points, 30 distinct injections, each containing 1 mL, are introduced
Kuo described a suburothelial technique that uses a rigid cystoscope and a 23-gauge injection needle. [2] In this approach, the needle is inserted into the submucosal space, and the botulinum toxin A solution is injected to form a ballooning of the bladder mucosa.
Reinjection may be performed when the clinical effect of the previous injection decreases, but no sooner than 12 weeks after the preceding bladder injection.
---
Did this answer your question?
Additional feedback? (Optional)
Thank you for your feedback!