Answer
The adult bladder is located in the anterior pelvis and is enveloped by extraperitoneal fat and connective tissue. It is separated from the pubic symphysis by an anterior prevesical space known as the retropubic space (of Retzius). The dome of the bladder is covered by peritoneum, and the bladder neck is fixed to neighboring structures by reflections of the pelvic fascia and by true ligaments of the pelvis.
The body of the bladder receives support from the external urethral sphincter muscle and the perineal membrane inferiorly and the obturator internus muscles laterally (see the image below).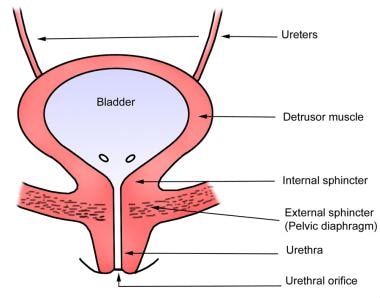 Gross anatomy of the bladder.
For more information about the relevant anatomy, see Bladder Anatomy.
---
Did this answer your question?
Additional feedback? (Optional)
Thank you for your feedback!