Answer
Answer
Obtain a chest radiograph (posteroanterior, lateral). A mass larger than one third the diameter of the thorax is considered bulky and indicates a poor prognosis. This might have therapeutic implications later in treatment if radiotherapy is being considered.
Obtain CT scans (chest, abdomen, pelvis). Extension to the pleura, pericardium, and even the chest wall is common. Invasion of the liver, kidneys, and peripheral lymph nodes is more common at the time of recurrence. On occasion, obtaining a CT scan of the neck and soft tissues might be warranted.
Positron emission tomography (PET) scans are considered standard of care procedure before initiating therapy. PET scans are expected to become negative upon completion of successful treatment. Additional diagnostic or treatment considerations (as discussed below) are suggested if the PET scans remain positive after completion of therapy. Treatment decisions based solely on PET scan results are not encouraged, and patients might need to undergo additional diagnostic procedures to confirm whether the PET scan findings are truly positive.
Consider other imaging studies if they are clinically indicated (eg, head CT scan or MRI, if the patient has neurologic problems; see image below). Consider performing a multiple-gated acquisition (MUGA) scan to assess cardiac function before anthracycline-based chemotherapy.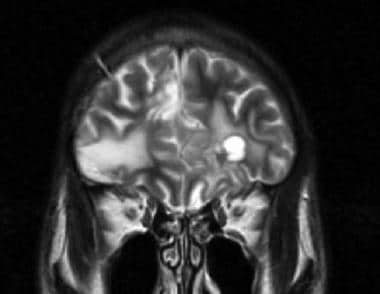 Isolated CNS relapse of primary mediastinal B-cell lymphoma.
---
Did this answer your question?
Additional feedback? (Optional)
Thank you for your feedback!