Answer
Signs of a viable testis after detorsion (see the image below) include a return of color, return of Doppler flow, and arterial bleeding after incision of the tunica albuginea. However, Lian et al reported that even when the testis was intraoperatively assessed as viable, half of their patients who underwent salvage therapy for testicular torsion developed testicular atrophy. Factors that predicted testicular atrophy were pain duration of longer than a day and heterogeneous echogenicity on sonographic examination. [53]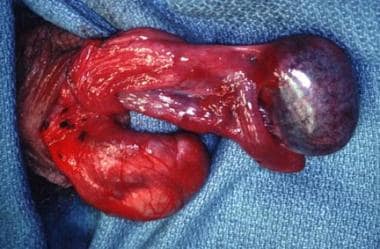 Intraoperative findings in testicular torsion.
Working on the assumption that invasion of the tunica albuginea has a negative impact on spermatogenesis, Kozminski et al employ orchiopexy without use of a fixation suture that pierces the tunica albuginea. These authors report a high rate of favorable outcomes in a study that included 155 procedures performed in 101 patients to remedy testicular torsion. [54]
---
Did this answer your question?
Additional feedback? (Optional)
Thank you for your feedback!