Answer
Louis Arthur Fallot, after whom the name tetralogy of Fallot is derived, was not the first person to recognize the condition. Stensen first described it in 1672; however, it was Fallot who first accurately described the clinical and complete pathologic features of the defects.
Although the disorder was clinically diagnosed much earlier, no treatment was available until the 1940s. Cardiologist Helen Taussig recognized that cyanosis progressed and inevitably led to death in infants with tetralogy of Fallot. She postulated that the cyanosis was due to inadequate pulmonary blood flow. Her collaboration with Alfred Blalock led to the first type of palliation for these infants. In 1944, Blalock operated on an infant with tetralogy of Fallot and created the first Blalock-Taussig shunt between the subclavian artery and the pulmonary artery (see the image below).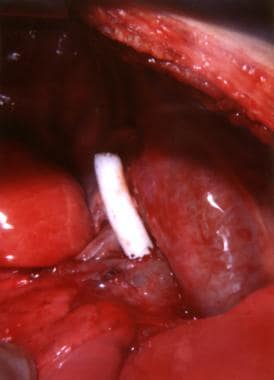 This image shows completed blocking with a Taussig shunt.
The pioneering Blalock-Taussig shunt surgical technique opened a new era in neonatal cardiac surgery. Development of the Potts shunt (from the descending aorta to the left pulmonary artery), the Glenn shunt (from the superior vena cava to the right pulmonary artery), and the Waterston shunt (from the ascending aorta to the right pulmonary artery) followed.
Scott performed the first open correction in 1954. Less than 6 months later, Lillehei performed the first successful open repair for tetralogy of Fallot using controlled cross-circulation, with another patient serving as oxygenator and blood reservoir. The following year, with the advent of cardiopulmonary bypass by Gibbons, another historic era of cardiac surgery was established. Since then, numerous advances in surgical technique and myocardial preservation have evolved in the treatment of tetralogy of Fallot.
---
Did this answer your question?
Additional feedback? (Optional)
Thank you for your feedback!