Answer
Whole body F-18 2-deoxyglucose (FDG) positron emission tomography (PET) scan can be used for the initial evaluation of patients with NHL; however, this scan is more useful for posttreatment evaluation to differentiate early recurrences or residual disease from fibrosis or necrosis. This PET scan has a higher predictive value for relapse than classic CT scan imaging. [18] A study by Zinzani et al determined that midtreatment scanning using PET allowed physicians to better make crucial decisions on further treatment. [19]
A study by Terezakis found that incorporating FDG-PET into CT-based treatment planning in patients with lymphoma resulted in beneficial changes in management, volume definition, and normal tissue dosimetry for a significant amount of patients. [20]
In a study of 130 patients with diffuse large B-cell lymphoma, Khan et al found PET-CT scanning to be highly accurate in identifying marrow disease. [21] PET-CT scanning identified 33 of 35 patients found to have marrow involvement, compared with 14 cases identified by marrow histology. The investigators found that PET scanning had a sensitivity of 94% and a specificity of 100%, whereas iliac crest biopsy had a sensitivity of 40% and a specificity of 100%. See the image below.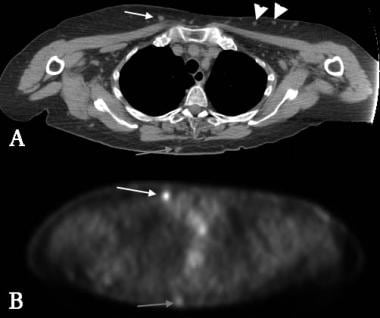 Positron emission tomography (PET) CT in an 80-year-old woman with diffuse, large B-cell NHL of the skin and subcutaneous tissues that recently transformed from previous low-grade non-Hodgkin lymphoma (NHL). PET shows high level of uptake in the anterior subcutaneous nodule in the chest (white arrows). CT scan of similar nodules (arrowheads) on the anterior left chest does not show PET uptake; these may represent regions of lower-grade NHL. PET image of posterior lesions shows only mild uptake (gray arrow).
---
Did this answer your question?
Additional feedback? (Optional)
Thank you for your feedback!