Answer
Gallium scans are an option in selected cases of NHL. These scans can detect initial sites of disease, reflect therapy response, and detect early recurrences. This scan is positive in nearly all patients with aggressive and highly aggressive lymphomas and in approximately 50% of patients with indolent lymphomas at diagnosis. See the image below.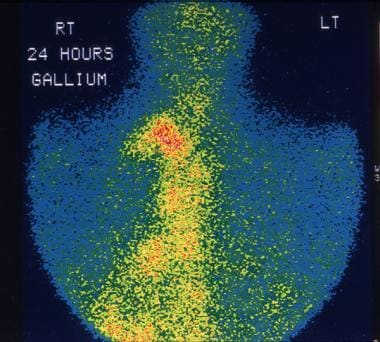 This 28-year-old man was being evaluated for fever of unknown origin. Gallium-67 study shows extensive uptake in the mediastinal lymph nodes due to non-Hodgkin lymphoma (NHL).
---
Did this answer your question?
Additional feedback? (Optional)
Thank you for your feedback!