Answer
Primary mediastinal large B-cell lymphoma is a diffuse large B-cell lymphoma that arises in the mediastinum from a putative thymic B-cell origin and has distinctive clinical, phenotypic, and genotypic features. Histologically, it is commonly associated with compartmentalizing alveolar fibrosis (see the image below). The cells are medium-sized to large and have abundant clear/pale cytoplasm and round to oval nuclei. A few cases have multilobated and pleomorphic nuclei resembling the Reed-Sternberg cells of Hodgkin lymphoma.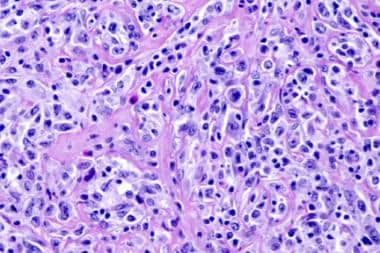 Compartmentalizing fibrosis and infiltrate of medium-sized to large lymphoid cells.
---
Did this answer your question?
Additional feedback? (Optional)
Thank you for your feedback!