Answer
Burkitt lymphoma is a B-cell lymphoma with an extremely short doubling time that often presents in extranodal sites or as an acute leukemia. Involved tissues are effaced by a diffuse infiltrate of monomorphic, medium-sized (nuclei similar or smaller to those of histiocytes) transformed lymphoid cells.
The nuclei are round with finely clumped and dispersed chromatin, with multiple basophilic medium-sized paracentrically situated nucleoli. The cytoplasm is deeply basophilic and usually contains lipid vacuoles (see the images below). A high mitotic index is typical, as is apoptotic tumor cell death, accounting for the presence of numerous tissue macrophages with their ingested tissue debris. These macrophages are often surrounded by a clear space, creating the characteristic starry sky pattern.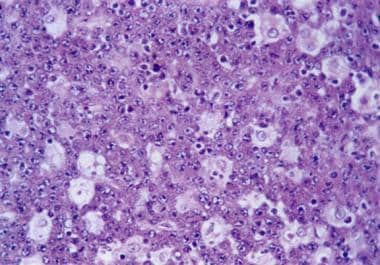 Burkitt lymphoma. Normal architecture is entirely replaced by lymphoma cells and evenly dispersed macrophages, starry sky (250×).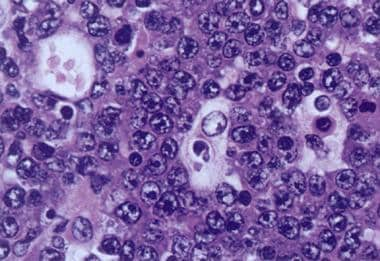 Burkitt lymphoma cells with round noncleaved nuclei and strongly basophilic cytoplasm (1000×).
---
Did this answer your question?
Additional feedback? (Optional)
Thank you for your feedback!