Answer
In most cases, the tumor cells have a round or oval nucleus that appears vesicular because of margination of chromatin at the nuclear membrane, but large multilobed or cleaved nuclei predominate in some cases (see the image below). Nucleoli may be 2-3 in number and located adjacent to the nuclear membrane, or they may be single and centrally placed. Cytoplasm is usually present in moderate abundance and may be pale or basophilic.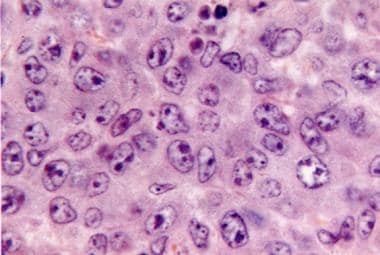 Diffuse large B-cell non-Hodgkin lymphoma. Large cells with abundant cytoplasm and large round-ovoid nuclei with thick nuclear membrane and multiple prominent nucleoli.
Other more anaplastic tumors may contain multinucleated cells with large inclusionlike nucleoli that closely resemble Reed-Sternberg cells, and phenotyping is often necessary to distinguish these 2 entities.
---
Did this answer your question?
Additional feedback? (Optional)
Thank you for your feedback!