Answer
Mantle cell lymphoma is a B-cell neoplasm generally composed of monomorphic small to medium-sized lymphoid cells with irregular nuclear contours and a cyclin-D1 translocation (see the image below). Neoplastic transformed cells resembling centroblasts, immunoblasts, or paraimmunoblasts and proliferation centers are absent. Hyalinized small vessels are commonly seen.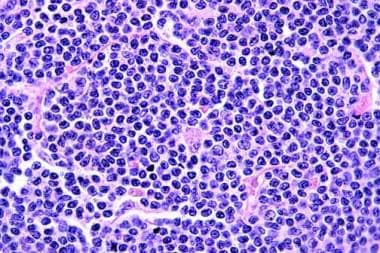 Mantle cell lymphoma. Small lymphoid cells with oval to slightly irregular nuclei and clumped chromatin and rare admixed pink histiocytes.
A spectrum of morphologic variants is recognized. The blastoid and pleomorphic variants are considered to have poorer prognosis and to be of important clinical significance. Further evaluation of the proliferation fraction, either by counting mitotic figures or estimating the proportion of Ki67-positive nuclei, is important because of its prognostic impact.
---
Did this answer your question?
Additional feedback? (Optional)
Thank you for your feedback!