Answer
Follicular lymphoma is a neoplasm composed of follicle center B cells (typically both centrocytes and centroblasts) that usually has at least a partially follicular pattern. It is graded by counting or estimating the absolute number of centroblasts in 10 neoplastic follicles, expressed per 40× high-power microscopic field (hpf). Grade 1 and grade 2 cases have a marked predominance of centrocytes and only a few centroblasts (grade 1, 0-5 centroblasts/hpf; grade 2, 6-15 centroblasts/hpf; grade 3, >15 centroblasts/hpf).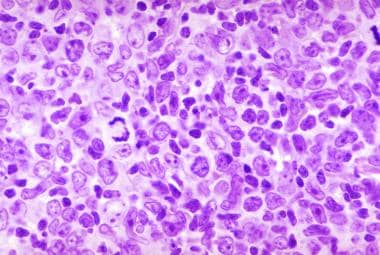 Neoplastic follicles comprising cleaved cells (centrocytes) and larger cells with vesicular nuclei and prominent 2-3 nucleoli (centroblasts).
---
Did this answer your question?
Additional feedback? (Optional)
Thank you for your feedback!