Answer
Answer
Before discussing the pathology of unclassifiable myelodysplastic syndromes (MDS-U), some background information is necessary.
The 2008 revision of World Health Organization (WHO) classification of myelodysplastic syndromes (MDS) recognized several clinicopathologic entities, defined by particular morphologic, cytogenetic, and clinical features. [1] However, a small minority of MDS cases could not be classified into any specific entity, because they bear features that are atypical, making their clinical significance uncertain. See the image below.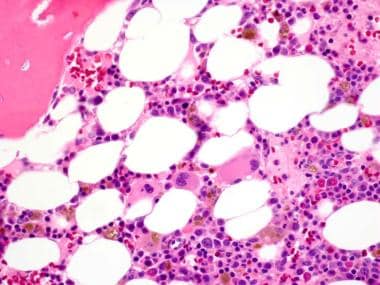 Pathology of unclassifiable myelodysplastic syndromes (MDS-U). Bone marrow biopsy section from a patient with myelodysplastic syndrome, unclassifiable (MDS-U) (pancytopenia and -7 cytogenetic abnormality). The biopsy is hypocellular with hemosiderin deposition secondary to multiple transfusions. Megakaryocytes are not dysplastic.
Rather than attempting to force such unclassifiable cases into a specific MDS diagnostic group (that may carry particular prognostic or therapeutic implications), placing such cases in a separate group known as "MDS, unclassifiable," until sufficient data are available to better characterize their biologic features and clinical behavior is preferable. Thus, "myelodysplastic syndromes, unclassifiable" (MDS-U) encompasses cases of myelodysplasia (myeloid neoplasms characterized by ineffective hematopoiesis) that do not fulfill the criteria for any of the specific MDS entities. In the 2016 revised fourth edition classification of MDS-U, [2] minor changes were made to the diagnostic criteria of this disease subgroup compared to the original 2008 fourth edition classification. [1]
It is important to note that the MDS-U designation is not a wastebasket to be used for MDS cases in which the diagnostic workup is incomplete or some studies are suboptimal. Before the pathologist designates a case as MDS-U, any and all pertinent clinical, morphologic, immunophenotypic, or cytogenetic information that could enable classification as another MDS entity (or, indeed, another disease altogether) should be elicited. Moreover, the case must fuflill defining features of one of the three MDS-U subgroups in order to be assigned to this category.
---
Did this answer your question?
Additional feedback? (Optional)
Thank you for your feedback!