Answer
Bleeding for any reason produces iron depletion. If sufficient blood loss occurs, iron deficiency anemia ensues (see the image below). A single sudden loss of blood produces a posthemorrhagic anemia that is normocytic. The bone marrow is stimulated to increase production of hemoglobin, thereby depleting iron in body stores. Once they are depleted, hemoglobin synthesis is impaired and microcytic hypochromic erythrocytes are produced.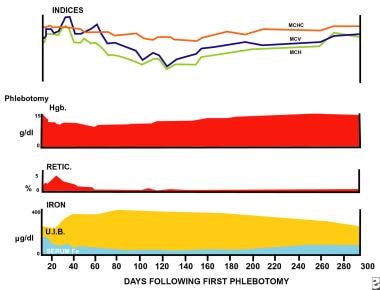 Sequential changes in laboratory values following blood loss are depicted. A healthy human was bled 5 L in 500-mL increments over 45 days. A moderate anemia ensued, initially with normal cellular indices and serum iron. Subsequently, the mean corpuscular volume (MCV) increased as iron was mobilized from body stores and reticulocytosis occurred. The serum iron decreased, followed by an increase in the total iron-binding capacity. Gradual decreases in the red blood cell indices occurred, with maximal microcytosis and hypochromia present 120 days after bleeding. Values returned to normal approximately 250 days after blood loss. At the end of the experiment, iron was absent from body stores (marrow) because hemoglobin has a first priority for iron. Iron-59 absorption was increased after all values returned to normal in order to replenish the body store with iron. This suggests that the serum iron, total iron-binding capacity, hemoglobin concentration, and indices were not the primary regulators of iron absorption.
Maximal changes in the red blood cell (RBC) cellular indices occur in approximately 120 days, at a time when all normal erythrocytes produced prior to the hemorrhage are replaced by microcytes. Before this time, the peripheral smear shows a dimorphic population of erythrocytes, normocytic cells produced before bleeding, and microcytic cells produced after bleeding. This is reflected in the red blood cell distribution width (RDW); thus, the earliest evidence of the development of an iron-deficient erythropoiesis is seen in the peripheral smear, in the form of increased RDW.
---
Did this answer your question?
Additional feedback? (Optional)
Thank you for your feedback!