Answer
Meat provides a source of heme iron, which is less affected by the dietary constituents that markedly diminish bioavailability than nonheme iron is. The prevalence of iron deficiency anemia is lower in geographic areas where meat is an important constituent of the diet. In areas where meat is sparse, iron deficiency is commonplace.
Substances that diminish the absorption of ferrous and ferric iron include phytates, oxalates, phosphates, carbonates, and tannates (see the image below). These substances have little effect upon the absorption of heme iron. Similarly, ascorbic acid increases the absorption of ferric and ferrous iron and has little effect upon the absorption of heme iron.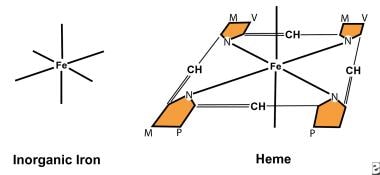 Both nonheme iron and heme iron have 6 coordinating bonds; however, 4 of the bonds in heme bind pyrroles, making them unavailable for chelation by other compounds. Therefore, ascorbic acid chelates nonheme iron to enhance absorption but has no effect upon heme iron. Many dietary components, such as phytates, phosphates, oxalates, and tannates, bind nonheme iron to decrease nonheme iron absorption. They do not affect heme. This explains why heme is so effectively absorbed with foods containing these chelators. Iron hemoglobin structure.
Purified heme is absorbed poorly because heme polymerizes into macromolecules. Globin degradation products diminish heme polymerization, making it more available for absorption. They also increase the absorption of nonheme iron because the peptides from degraded globin bind the iron to prevent both precipitation and polymerization; thus, absorption of the iron in spinach is increased when the spinach eaten with meat. Heme and nonheme iron uptake by intestinal absorptive cells is noncompetitive.
---
Did this answer your question?
Additional feedback? (Optional)
Thank you for your feedback!