Answer
In North America and Europe, one third of dietary iron is heme iron, but two thirds of body iron is derived from dietary myoglobin and hemoglobin. Heme iron is not chelated and precipitated by numerous dietary constituent that render nonheme iron nonabsorbable (see the image below), such as phytates, phosphates, tannates, oxalates, and carbonates. Heme is maintained soluble and available for absorption by globin degradation products produced by pancreatic enzymes. Heme iron and nonheme iron are absorbed into the enterocyte noncompetitively.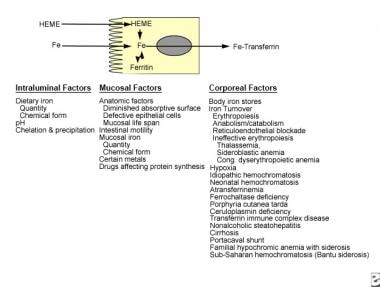 Dietary iron contains both heme and nonheme iron. Both chemical forms are absorbed noncompetitively into duodenal and jejunal mucosal cells. Many of the factors that alter the absorption of nonheme iron have little effect upon the absorption of heme iron because of the differences in their chemical structures. Iron is released from heme within the intestinal absorptive cell by heme oxygenase and then transferred into the body as nonheme iron. Factors affecting various stages of iron absorption are shown in this diagram. The simplest model of iron absorption must consider intraluminal, mucosal, and corporeal factors.
---
Did this answer your question?
Additional feedback? (Optional)
Thank you for your feedback!