Answer
Iron uptake in the proximal small bowel occurs by 3 separate pathways (see the image below). These are the heme pathway and 2 distinct pathways for ferric and ferrous iron.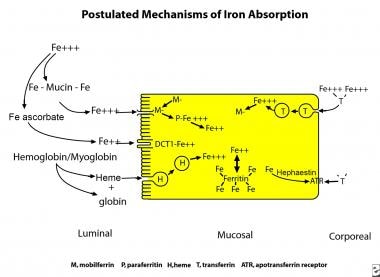 Three pathways exist in enterocytes for uptake of food iron. In the United States and Europe, most absorbed iron is derived from heme. Heme is digested enzymatically free of globin and enters the enterocyte as a metalloporphyrin. Within the cell iron is released from heme by heme oxygenase to pass into the body as inorganic iron. Most dietary inorganic iron is ferric iron. This can enter the absorptive cell via the integrin-mobilferrin pathway (IMP).Some dietary iron is reduced in the gut lumen and enters the absorptive cell via the divalent metal transporter-1 (DMT-1/DCT-1/Nramp-2). The proteins of both pathways interact within the enterocyte with paraferritin, a large protein complex capable of ferrireduction. Excess iron is stored as ferritin to protect the cell from oxidative damage. Iron leaves the cell to enter plasma facilitated by ferroportin and hephaestin, which associate with an apotransferrin receptor. The enterocyte is informed of body requirements for iron by transporting iron from plasma into the cell using a holotransferrin receptor.
---
Did this answer your question?
Additional feedback? (Optional)
Thank you for your feedback!