Answer
Iron is vital for all living organisms because it is essential for multiple metabolic processes, including oxygen transport, DNA synthesis, and electron transport. Iron equilibrium in the body is regulated carefully to ensure that sufficient iron is absorbed in order to compensate for body losses of iron (see the image below). Whereas body loss of iron quantitatively is as important as absorption in terms of maintaining iron equilibrium, it is a more passive process than absorption.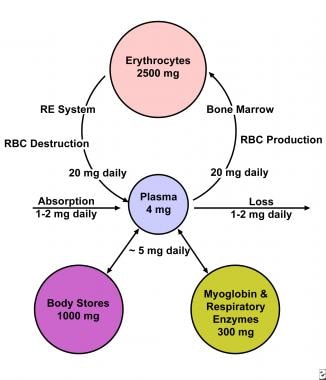 The total body iron in a 70-kg man is about 4 g. This is maintained by a balance between absorption and body losses. Although the body only absorbs 1 mg daily to maintain equilibrium, the internal requirement for iron is greater (20-25 mg). An erythrocyte has a lifespan of 120 days so that 0.8% of red blood cells are destroyed and replaced each day. A man with 5 L of blood volume has 2.5 g of iron incorporated into the hemoglobin, with a daily turnover of 20 mg for hemoglobin synthesis and degradation and another 5 mg for other requirements. Most of this iron passes through the plasma for reutilization. Iron in excess of these requirements is deposited in body stores as ferritin or hemosiderin.
In healthy people, the body concentration of iron (approximately 60 parts per million [ppm]) is regulated carefully by absorptive cells in the proximal small intestine, which alter iron absorption to match body losses of iron (see the image below). Persistent errors in iron balance lead to either iron deficiency anemia or hemosiderosis. Both are disorders with potential adverse consequences.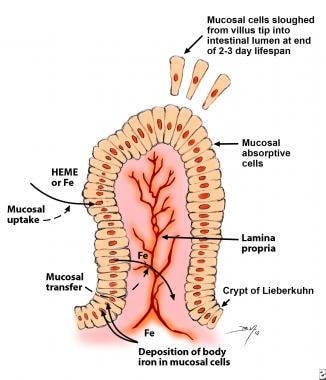 Mucosal cells in the proximal small intestine mediate iron absorption. Intestinal cells are born in the crypts of Lieberkuhn and migrate to the tips of the villi. The cells are sloughed into the intestinal lumen at the end of their 2- to 3-day lifespan. Absorptive cells remain attuned to the body requirement for iron by incorporating proportionate quantities of body iron into the absorptive cells. This iron and recently absorbed iron decrease uptake of iron from the gut lumen by satiation of iron-binding proteins with iron, by stimulating an iron regulatory element, or both. The incorporation of iron into these cells in quantities proportional to body stores of iron also provides a limited method of increasing iron excretion in individuals replete in iron.
---
Did this answer your question?
Additional feedback? (Optional)
Thank you for your feedback!