Answer
Iron deficiency anemia develops when body stores of iron drop too low to support normal red blood cell (RBC) production. Inadequate dietary iron, impaired iron absorption, bleeding, or loss of body iron in the urine may be the cause. [1] Iron equilibrium in the body normally is regulated carefully to ensure that sufficient iron is absorbed in order to compensate for body losses of iron (see the image below).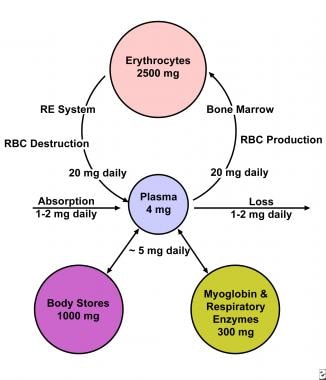 The total body iron in a 70-kg man is about 4 g. This is maintained by a balance between absorption and body losses. Although the body only absorbs 1 mg daily to maintain equilibrium, the internal requirement for iron is greater (20-25 mg). An erythrocyte has a lifespan of 120 days so that 0.8% of red blood cells are destroyed and replaced each day. A man with 5 L of blood volume has 2.5 g of iron incorporated into the hemoglobin, with a daily turnover of 20 mg for hemoglobin synthesis and degradation and another 5 mg for other requirements. Most of this iron passes through the plasma for reutilization. Iron in excess of these requirements is deposited in body stores as ferritin or hemosiderin.
---
Did this answer your question?
Additional feedback? (Optional)
Thank you for your feedback!