Answer
Answer
Bone marrow examination is not necessary in most cases of platelet disorders. The isolated presence of large platelets in the peripheral blood, in the absence of any other signs of bone marrow dysfunction, is very suggestive of normal marrow activity.
Bone marrow examination is necessary in patients whose condition has an atypical course, have splenomegaly, or will undergo splenectomy, and in patients over age 60 years, as thrombocytopenia may be the initial manifestation of myelodysplastic syndrome.
Bone marrow examination in patients with ITP shows megakaryocytic hyperplasia (see image below). Quantifying the megakaryocytes in the bone marrow is technically difficult. Usually, 2-3 megakaryocytes are present in each spicule in typical marrow. Clusters of immature megakaryocytes are often observed in patients with ITP.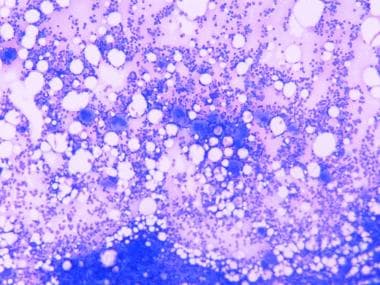 Bone marrow in immune thrombocytopenia. Bone marrow examination reveals an increased number of megakaryocytes.
---
Did this answer your question?
Additional feedback? (Optional)
Thank you for your feedback!