Answer
Answer
Physical examination reveals only the presence of petechiae and ecchymoses. The presence of lymphadenopathy or splenomegaly suggests other secondary causes of thrombocytopenia rather than ITP.
The peripheral smear shows a decreased number of platelets. Often, the smear shows giant platelets, which is a reflection of increased thrombopoietin-induced stimulation of the bone marrow (see images below).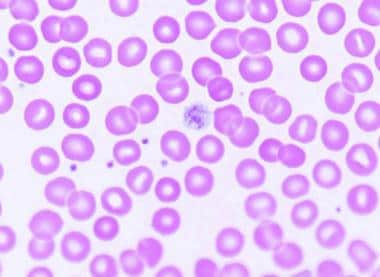 Examination of the peripheral smears in immune thrombocytopenic purpura often shows giant platelets. These platelets reflect the increased megakaryocytic mass in the marrow.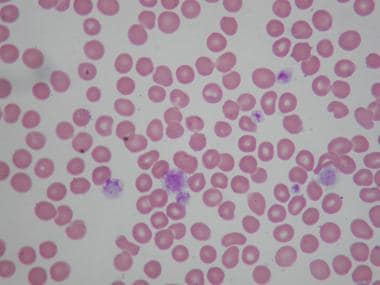 Peripheral smear of a patient with Bernard-Soulier syndrome showing giant platelets. These platelets are not counted as platelets in most particle counters.
At times, the smear may show eosinophilia and lymphocytosis, possibly reflecting hypersensitivity to the inciting viral antigens. The bone marrow shows an increase in the number of megakaryocytes and signs of thrombopoietin-induced megakaryocyte stimulation (increase in number and ploidy, decrease in cytoplasm), resulting in large platelets in the periphery (see image below).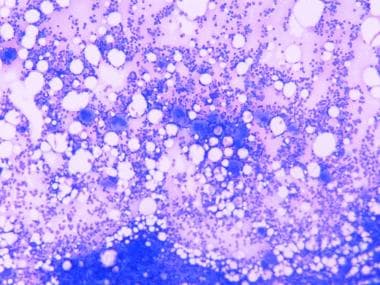 Bone marrow in immune thrombocytopenic purpura. Bone marrow examination reveals an increased number of megakaryocytes.
---
Did this answer your question?
Additional feedback? (Optional)
Thank you for your feedback!