Answer
Answer
The hemostatic system consists of platelets, coagulation factors, and the endothelial cells lining the blood vessels. The platelets arise from the fragmentation of the cytoplasm of megakaryocytes in the bone marrow and circulate in blood as disc-shaped anucleate particles for 7-10 days.
Under normal circumstances, the resistance of the endothelial cell lining to interactions with platelets and coagulation factors prevents thrombosis. When endothelial continuity is disrupted and the underlying matrix is exposed, a coordinated series of events are set in motion to seal the defect (primary hemostasis).
Platelets play a primary role in this process, interacting with subendothelium-bound von Willebrand factor (vWf) via the membrane glycoprotein (GP) Ib complex. This initial interaction (platelet adhesion) sets the stage for other adhesive reactions that allow the platelets to interact with each other to form an aggregate (see image below).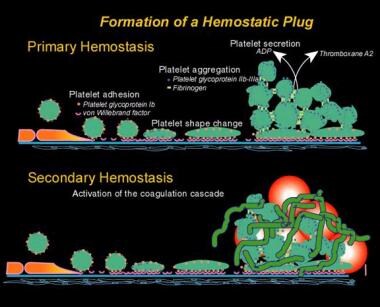 Normal hemostasis.
---
Did this answer your question?
Additional feedback? (Optional)
Thank you for your feedback!