Answer
Answer
Police and public safety officers are at increased risk for suicide. The long hours of work, the scenes they witness daily, the availability of guns, and the silence encouraged by the profession (keeping within the "wall-of-blue"), as well as alcohol usage and divorce, contribute to this risk.
Firefighters also have a high incidence of suicide. In a report by National Volunteer Fire Council, they identified over 260 firefighter suicides since they started to compile data on their own rank's suicide from 1880. They noted similar dynamic causes as those found in police suidides (eg, PTSD, job stresses) and suggested prevention approaches. [99]
Physicians, especially those who deal with progressively terminally ill patients, as well as dentists, also have a high rate of suicide. In the United States, the medical field loses the equivalent of a medical school class each year by suicide. Perhaps, elements of obsessive and perfectionist tendencies combined with personal feelings of isolation may contribute to this high number of self-induced deaths. Gold and colleagues looked at the records of 31,636 completed suicides, of which 203 were physicians. They concluded that "inadequate treatment and increased problems related to job stress may be potentially modifiable risk factors to reduce suicidal death among physicians." [100] They essentially concluded that doctors are under a great deal of stress and are often reluctant to seek help.
In view of the high rate of physician's suicide, Eneroth and colleagues looked at suicidal ideation among residents and specialist in a university hospital. Unsurprisingly, they found that some of these doctors did indeed have suicidal ideation. They concluded that residents and specialists require separate interventions based on their position in the medical hierarchy. The study also found that supportive meetings resulted in a lower level of suicidal ideation among specialists whereas empowering leadership helped reduce suicidal ideation among residents. [101]
Suicide risk in military personnel has been increasing, as demonstrated in the chart below.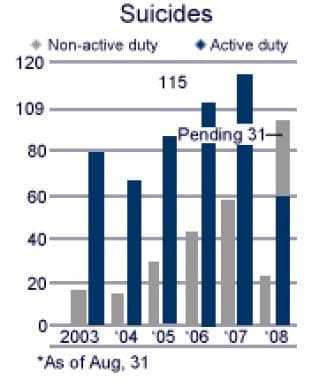 Suicides in active-duty and nonactive-duty US Army soldiers, 2003-2008. Data source: US Army.
---
Did this answer your question?
Additional feedback? (Optional)
Thank you for your feedback!