Answer
Hairy cell leukemia (HCL) is a chronic lymphoid leukemia, originally described in 1958 by Bouroncle and colleagues [1, 2] and named after the hairlike cytoplasmic projections seen on the surface of the abnormal B-cells (see the image below).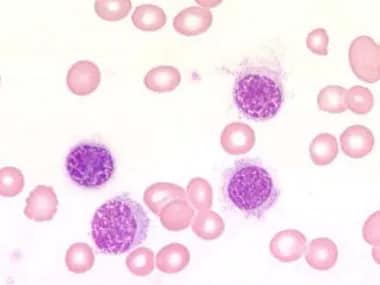 Blood film at × 1000 magnification. This image demonstrates lymphocytes with characteristic cytoplasmic projections. Photographed by U. Woermann, MD, Division of Instructional Media, Institute for Medical Education, University of Bern, Switzerland.
See Chronic Leukemias: 4 Cancers to Differentiate, a Critical Images slideshow, to help detect chronic leukemias and determine the specific type present.
Hairy cell leukemia is recognized as a clonal B-cell malignancy, as identified by immunoglobulin gene rearrangements that result in a phenotype B-cell expression of surface antigens. These reflect the differentiation between the immature B-cell of chronic lymphocytic leukemia and the plasma cell of multiple myeloma.
For patient education information, see the Cancer Center, as well as Leukemia.
---
Did this answer your question?
Additional feedback? (Optional)
Thank you for your feedback!