Answer
Answer
On gross examination, a typical plasma cell neoplasm will present as a soft to gelatinous, tan to yellow to hemorrhagic, bony defect or soft-tissue tumor. [1]
Microscopically, the morphologic features are similar for plasma cell myeloma and solitary plasmacytoma of bone. Normally, plasma cells reside in the marrow and represent less than 1% of nucleated cells. In plasma cell neoplasms, a clonal population of plasma cells proliferates, forming a tumor either in bone or soft tissue.
A variety of pathologic specimens can be received in the evaluation of a patient suspected to have a plasma cell neoplasm, including peripheral blood, urine, bone biopsies (core, incisional, or excisional), and bone marrow aspirate smears, clot sections, or core biopsies. Regardless of the specimen type received, clonal plasma cells show a similar morphology with variable degrees of maturation, form immature plasmablastic forms (with dispersed chromatin with conspicuous nucleoli and high nuclear-to-cytoplasmic ratio) to more mature forms (with eccentric nucleus with blocked chromatin, perinuclear cuff, and basophilic cytoplasm) to pleomorphic forms (with multinucleation and/or hyperlobation). [1, 4]
Immature and pleomorphic morphologic features are more consistent with a plasma cell neoplasm than a reactive proliferative process. [1] High cytoplasmic immunoglobin content of the clonal plasma cells is associated with morphologic findings of Mott cells, Russell bodies, Dutcher bodies, flame cells, and Gaucher-like cells. [1, 4]
Bone marrow biopsies will show sheets and clusters of plasma cells, with either focal or diffuse marrow involvement. [1, 4] A CD138 immunohistochemical stain can be used to aid in quantifying plasma cells (in core biopsy or clot sections) in diagnostically challenging cases (see Immunohistochemistry).
Plasma cell myeloma is a likely consideration if greater than 30% plasma cells or the presence of a tumoral mass of plasma cells is seen. [1] The number of plasma cells can be quite variable on marrow aspirate smears, from scattered and more limited in number to markedly increased in number with focal clustering. See the images below.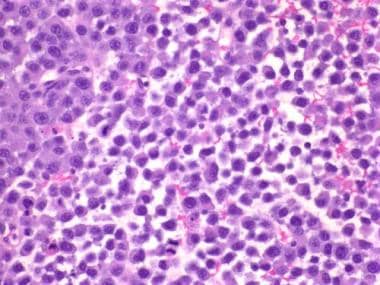 Histology shows sheets and clusters of atypical plasma cells and plasmablasts. The cells have eccentric nuclei and a clock-face-like chromatin. The cytoplasm is usually eosinophilic owing to the protein production in myeloma.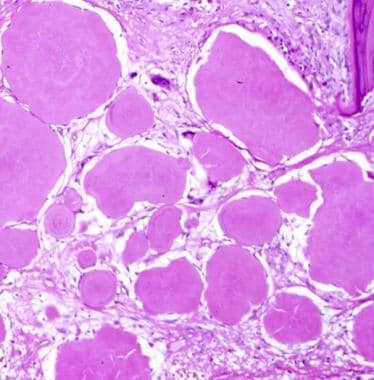 A by-product of these tumors is the production of amyloid. On routine hematoxylin and eosin (H&E) sections, amyloid appears as eosinophilic, amorphous deposits. Special stains are helpful in identifying these deposits.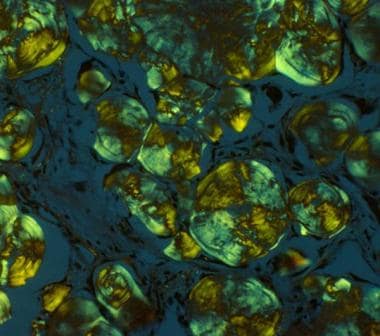 Examination by polarized light reveals an apple green coloring to the amyloid. This is often a helpful adjunct in interpreting suspected cases of amyloid deposition.
---
Did this answer your question?
Additional feedback? (Optional)
Thank you for your feedback!