Answer
Answer
Symptomatic plasma cell myeloma is a plasma cell neoplasm defined as the presence of end-organ damage (hypercalcemia, renal insufficiency, anemia, lytic lesions of bone) in a patient with a monoclonal protein (of any amount) and clonal plasma cells in the bone marrow (of any amount) or plasmacytoma. [1]
Patients with symptomatic plasma cell myeloma can present with features of bony involvement (bone pain, pathologic fractures), cytopenias (fatigue, immune dysfunction, infections), hyperviscosity syndrome, venous thromboembolism, and renal insufficiency. [1, 4, 5]
Hypercalcemia results from the increased osteoclastic activity, with resultant lytic bone lesions and pathologic fractures (see the image below). [1, 5, 10] Renal insufficiency is due to hypercalcemia and monoclonal light chain–induced injury to the kidney.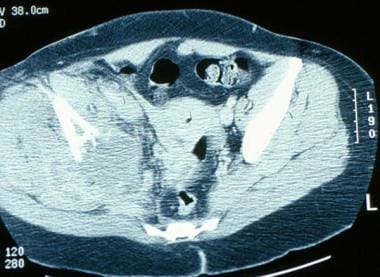 Computed tomography scan demonstrates a destructive lesion with an associated soft-tissue mass. This image depicts myeloma.
Anemia results from bone marrow replacement by plasma cell myeloma and/or the loss of erythropoietin as a result of renal injury. [1, 5] Hyperviscosity is a rare occurrence and is caused by increased circulating serum immunoglobulin. [11] Venous thromboembolism occurs in plasma cell myeloma, particularly in patients receiving multiagent chemotherapy or anti-angiogenesis drugs. [5]
---
Did this answer your question?
Additional feedback? (Optional)
Thank you for your feedback!