Answer
Answer
Tauopathies are a heterogenous group of neurodegenerative disorders that may culminate in dementia and are characterized by abnormal accumulations of tau protein, often both in neurons and glia (see the image below). [27, 28] Other pathologic hallmarks of brain regions affected by tau pathology are activated microglia, astrocytes, and elevated levels of proinflammatory molecules. [28]
This group of neurogenerative disorders includes corticobasal ganglionic degeneration, the Parkinson-dementia complex of Guam (also called Bodig-Lytigo), and argyrophilic grain disease. Several lines of evidence suggest that AD is also a tauopathy. [28, 29] The clinical presentation of these diseases varies and includes both cognitive impairment and movement disorders. [29, 30]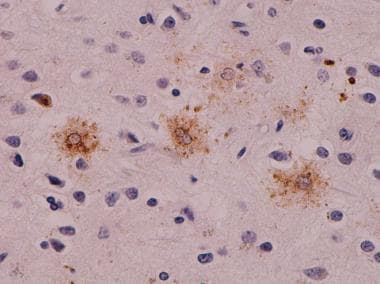 Dementia pathology. Immunohistochemical staining (brown) against tau at 400× magnification reveals glial immunoreactivity that is characteristic of this case of cortico-basal ganglionic degeneration.
A novel aspect of tauopathies is the potential for cell-to-cell propagation. [30]
---
Did this answer your question?
Additional feedback? (Optional)
Thank you for your feedback!