Answer
Answer
Alzheimer disease (AD), vascular brain injury (VBI), and Lewy body disease (LBD) are all highly prevalent disease processes and often occur simultaneously. [3, 4, 5, 6] Furthermore, clinically silent pathology is very common in the aging population. Over 50% of all individuals who undergo autopsy and 40% of individuals without dementia have intermediate or high AD pathology. Approximately 60% of these individuals have chronic VBI.
In the elderly population, comorbidity is the rule rather than the exception (see the image below). The likelihood that an individual had clinical dementia preceding death increases with the number of comorbid pathologies.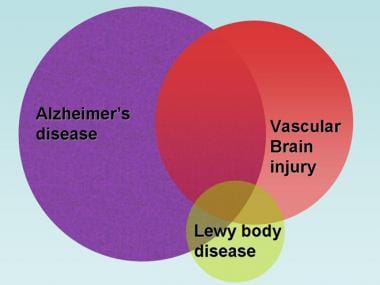 Dementia pathology. Comorbid brain pathologies are common in the elderly population. This Venn diagram demonstrates the co-occurrence of brain pathologies as evident from population-based autopsy studies of brain aging.
---
Did this answer your question?
Additional feedback? (Optional)
Thank you for your feedback!