Answer
Answer
Lewy bodies are spherical eosinophilic intraneuronal inclusion bodies surrounded by a clear halo (see image "A" below). Lewy body distribution and number are the diagnostic findings of LBD. In pigmented neurons, LBs are easy to identify with standard hematoxylin and eosin–stained sections.
Lewy bodies comprise a number of different aggregated proteins, the most diagnostically useful of which is alpha-synuclein. [20] Loss of pigment-bearing neurons is seen in the pigmented nuclei of the brainstem accompanied by the presence of neuromelanin in scavenger macrophages (pigment "incontinence"). Pigment loss in Parkinson disease is most severe in the ventrolateral tier of the substantia nigra, which contrasts with normal aging, in which some pigment loss is seen in the dorsal tier. Immunohistochemical staining against alpha-synuclein aids in detection of Lewy bodies in nonpigmented neurons such as in cortex (see image "B" below).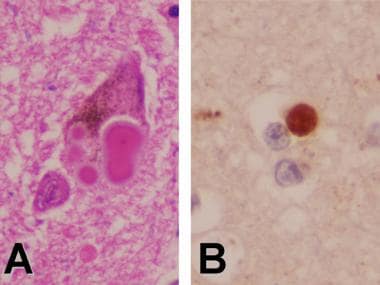 Dementia pathology. A: Hematoxylin and eosin staining of the substantia nigra at 400× magnification demonstrates multiple Lewy bodies within a pigmented neuron. The Lewy bodies are round with a densely eosinophilic core surrounded by a clear halo. B: Immunohistochemical staining (brown) against alpha-synuclein at 400× magnification reveals a round Lewy body within the soma of a neuron.
Distribution of Lewy bodies in the central nervous system progresses in a rostral manner. Incidental Lewy bodies present only in the medulla are usually clinically silent or may be associated with premortem symptoms of autonomic dysfunction. A brain stem–predominant distribution of LB in the medulla and substantia nigra may be clinically silent or associated with a premortem clinical diagnosis of Parkinson disease. Limbic distribution involves brainstem structures, as well as the amygdala, entorhinal cortex, and cingulate gyrus. The clinical correlate for this stage is unclear but may include cognitive impairment.
Diffuse distribution involves all of the brainstem and limbic structures, as well as the isocortex. In diffuse LBD, the cortex is variably atrophic, and, in more severe cases, vacuolization of the superficial cortical layers often exists. Most cases of LBD can be classified using hematoxylin and eosin sections of substantia nigra and immunohistochemical staining against alpha-synuclein in sections of medulla, amygdala, cingulate gyrus, and frontal cortex. [21, 22] Pathologic changes of LBD and AD may also coexist in patients with dementia.
---
Did this answer your question?
Additional feedback? (Optional)
Thank you for your feedback!