Answer
Answer
Vascular brain injury (VBI) is widely recognized as a common cause of cognitive impairment (vascular cognitive impairment) culminating in vascular dementia. [14] Most vascular dementia cases are sporadic and share risk factors with peripheral vascular disease.
A widely used method for the clinical diagnosis of vascular dementia in life is the Hachinski Ischemic Score, which is assessed by determining whether the individual has experienced an abrupt onset or stepwise progressive course of specific signs and symptoms and the presence of vascular risk factors. [15] Pathologic assessment of VBI has been hindered by the lack of a clear, standardized, and widely accepted rubric for diagnosis and staging. Gross ischemic infarcts, lacunar infarcts, arteriolosclerosis, and microscopically identified infarcts (cortical, subcortical) (see image below) have all been independently associated with vascular dementia. [14] "The best predictors of vascular cognitive impairment "appear to be "small or lacunar infarcts, microinfarcts, perivascular space dilatation, myelin loss, arteriolosclerosis, and leptomeningeal cerebral amyloid angiopathy." [14]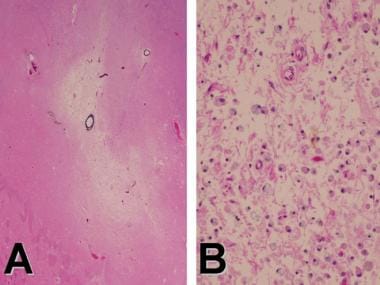 Dementia pathology. A: Hematoxylin-eosin-Luxol fast blue staining of the basal ganglia at 100× magnification demonstrates a cavitary infarct. Calcific medial sclerosis of small arteries is also present. B: At 400× magnification, numerous foamy macrophages are present within the center of the infarcted tissue.
With the widespread adoption of magnetic resonance imaging (MRI) (beyond its ability to enhance the diagnosis of ischemic infarcts), more subtle ischemic injury can appreciably be visualized as T2 signal hyperintensities in white matter in living individuals. Although these changes are often classified under the rubric of "small-vessel disease," their precise pathologic correlates are not well understood but may include ischemia-induced demyelination and/or axonal loss, arteriolosclerosis, microscopic infarcts, breakdown of the blood brain barrier, and/or breakdown of the blood-cerebrospinal fluid barrier. [14]
In a literature review of studies that utilized samples from the Medical Research Council Cognitive Function and Ageing Study neuropathology cohort to identify cerebral white matter lesions, Wharton et al indicated that expression of hypoxia-related molecules and other injury and protective cellular pathways reported in immunohistochemical and gene expression microarray studies suggest that hypoxia and ischemia play a role in the pathology of white matter lesions. [16] Other pathogenic factors included immune activation, blood-brain barrier dysfunction, altered cell metabolic pathways, and glial cell injury. The investigators reported that these abnormalities were not confined to white matter lesions but were also found in apparently normal white matter in brains with lesions, suggesting a field effect of white matter abnormality within which lesions arise. They concluded that white matter lesions have a complex pathogenesis that may offer a number of primary and secondary intervention targets. [16]
Two criteria that have been suggested for the pathologic diagnosis of vascular dementia include (1) multiple large and/or strategic infarcts in cerebrum [17] or (2) a threshold of three or more microscopic infarcts identified in a systematic screening of cerebral cortex and deep cerebral structures. [3, 4, 18] VBI is commonly comorbid with AD in elderly patients with dementia, especially in a community setting.
A rare autosomal-dominant disease that causes multiple small strokes and may culminate in vascular dementia is cerebral autosomal dominant arteriopathy with subcortical infarcts and leukoencephalopathy (CADASIL). [9] CADASIL is caused by mutations in NOTCH3. [9]
---
Did this answer your question?
Additional feedback? (Optional)
Thank you for your feedback!