Answer
The prevalence of folate deficiency has decreased since many countries in the western hemisphere introduced a mandatory folic acid food fortification program starting in the late 1990s. People with excessive alcohol intake and malnutrition are still at high risk of folate deficiency. National Health and Nutrition Examination Survey (NHANES) data from 2003-2006 showed that certain groups, including women of childbearing age and non-Hispanic black women, are also at risk of folate deficiency, while some older adults are at risk of over-supplementation. [1]
Note the chart below.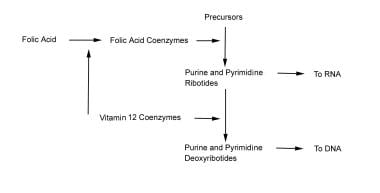 Both folic acid and vitamin B-12 participate in the synthesis of DNA and RNA.
See 21 Hidden Clues to Diagnosing Nutritional Deficiencies, a Critical Images slideshow, to help identify clues to conditions associated with malnutrition.
Folic acid supplementation continues to be actively debated in the medical literature, with conflicting findings regarding its significance. While folate deficiency clearly predisposes to a number of health consequences, more recent studies raise concerns of toxicities and health consequences related to over-supplementation. Notable considerations regarding folate deficiency are as follows:
An association between folate deficiency and elevated homocysteine, a known marker for increased arteriosclerosis risks [2]

A long-recognized reduction in the incidence of neural tube defects with folic acid supplementation before and during pregnancy

Evidence that maternal folic acid supplementation before and during pregnancy may reduce the risk of childhood leukemia in the offspring. [8]

Evidence that folic acid supplementation may improve cognitive function, especially in people with hyperhomocysteinemia [9]
Folic acid supplementation clearly has significant public health implications. This article explores the mechanisms and manifestations behind folate deficiency, as well as its ramifications with regard to health and disease at large.
---
Did this answer your question?
Additional feedback? (Optional)
Thank you for your feedback!