Answer
Bone marrow aspiration and biopsy are critical in making the diagnosis of acute erythroleukemia. Bone marrow smears from aspirate and touch preparations from biopsy should be stained with Wright-Giemsa and other histochemical stains.
The FAB classification used since 1985 is based on cell morphology to identify the lineage of the blasts, the degree of differentiation, the number of blasts (quantification), and cytochemistry. [11] This classification does not include cytogenetics. Erythroleukemia is required to have both erythroblastic and myeloblastic components (see the image below). The assessment of a bone marrow specimen is based on a 500-cell count.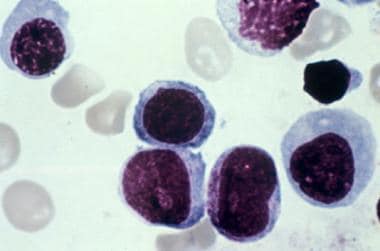 Bone marrow aspirate showing erythroblasts in a patient with erythroleukemia. Courtesy of Maurice Barcos, MD, PhD, Department of Pathology, Roswell Park Cancer Institute, Buffalo, NY.
FAB criteria require (1) a 50% or more erythroid component in all nucleated cells and (2) at least one of the following: 30% or more nonerythroid blasts, excluding erythroblasts, or less than 30% blasts in all nucleated cells. Nonerythroid blast cells are blast I (ie, myeloblast with no cytoplasmic granules, distinct nucleoli) or blast II (ie, granules, centrally placed nucleus) and monoblast.
---
Did this answer your question?
Additional feedback? (Optional)
Thank you for your feedback!