Answer
Erythroleukemia is a subtype of acute myeloid leukemia (AML) that is distinguished by erythroblastic proliferation. [1] Patients usuallly present with nonspecific signs and symptoms from the anemia, thrombocytopenia, and leukopenia resulting from the replacement of bone marrow by leukemic cells (see Presentation). Bone marrow aspiration and biopsy are critical in making the diagnosis of acute erythroleukemia (see the image below, and Workup). The treatment of acute erythroleukemia is similar to that used for other subtypes of AML (see Treatment and Medication).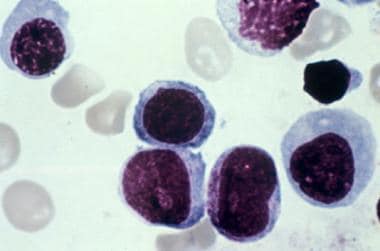 Bone marrow aspirate showing erythroblasts in a patient with erythroleukemia. Courtesy of Maurice Barcos, MD, PhD, Department of Pathology, Roswell Park Cancer Institute, Buffalo, NY.
---
Did this answer your question?
Additional feedback? (Optional)
Thank you for your feedback!