Answer
The bone marrow is characteristically hypercellular, with expansion of the myeloid cell line (eg, neutrophils, eosinophils, basophils) and its progenitor cells. Megakaryocytes (see the image below) are prominent and may be increased. Mild fibrosis is often seen in the reticulin stain.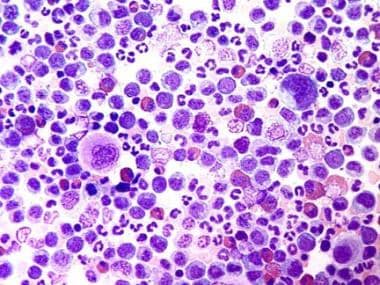 Chronic myelogenous leukemia. Bone marrow film at 400X magnification demonstrates clear dominance of granulopoiesis. The number of eosinophils and megakaryocytes is increased. Courtesy of U. Woermann, MD, Division of Instructional Media, Institute for Medical Education, University of Bern, Switzerland.
Cytogenetic studies of the bone marrow cells, and even peripheral blood, should reveal the typical Ph1 chromosome, which is a reciprocal translocation of chromosomal material between chromosomes 9 and 22 (see the image below). This is the hallmark of CML, found in almost all patients with the disease and present throughout the entire clinical course of CML.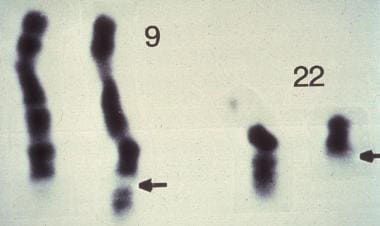 The Philadelphia chromosome, which is a diagnostic karyotypic abnormality for chronic myelogenous leukemia, is shown in this picture of the banded chromosomes 9 and 22. Shown is the result of the reciprocal translocation of 22q to the lower arm of 9 and 9q (c-abl to a specific breakpoint cluster region [bcr] of chromosome 22 indicated by the arrows). Courtesy of Peter C. Nowell, MD, Department of Pathology and Clinical Laboratory of the University of Pennsylvania School of Medicine.
In addition, the chimeric BCR/ABL messenger RNA (mRNA) that characterizes CML can be detected by polymerase chain reaction (PCR). This is a sensitive test that requires just a few cells and is useful in monitoring minimal residual disease (MRD) to determine the effectiveness of therapy. BCR-ABL mRNA transcripts can also be measured in peripheral blood
Karyotypic analysis of bone marrow cells requires the presence of a dividing cell without loss of viability because the material requires that the cells go into mitosis to obtain individual chromosomes for identification after banding. This is a slow, labor-intensive process.
The new technique of fluorescence in situ hybridization (FISH) uses labeled probes that are hybridized to either metaphase chromosomes or interphase nuclei, and the hybridized probe is detected with fluorochromes. This technique is a rapid and sensitive means of detecting recurring numerical and structural abnormalities. (See the image below.)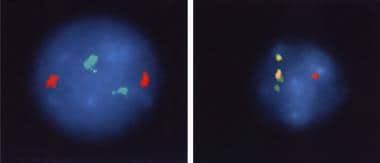 Chronic myelogenous leukemia. Fluorescence in situ hybridization using unique-sequence, double-fusion DNA probes for bcr (22q11.2) in red and c-abl (9q34) gene regions in green. The abnormal bcr/abl fusion present in Philadelphia chromosome–positive cells is in yellow (right panel) compared with a control (left panel). Courtesy of Emmanuel C. Besa, MD.
Two forms of the BCR/ABL mutation have been identified. These vary according to the location of their joining regions on bcr 3' domain. Approximately 70% of patients who have the 5' DNA breakpoint have a b2a2 RNA message, and 30% of patients have a 3' DNA breakpoint and a b3a2 RNA message. The latter is associated with a shorter chronic phase, shorter survival, and thrombocytosis.
CML should be differentiated from Ph1-negative diseases with negative PCR results for BCR/ABL mRNA. These diseases include other myeloproliferative disorders and chronic myelomonocytic leukemia, which is now classified with the myelodysplastic syndromes.
Additional chromosomal abnormalities, such as an additional or double Ph1-positive chromosome or trisomy 8, 9, 19, or 21; isochromosome 17; or deletion of the Y chromosome, have been described as the patient enters a transitional form or accelerated phase of the blast crisis as the Ph chromosome persists.
Patients with conditions other than CML, such as newly diagnosed acute lymphocytic leukemia (ALL) or nonlymphocytic leukemia, may also be positive for the Ph1 chromosome. Some consider this the blastic phase of CML without a chronic phase. The chromosome is rarely found in patients with other myeloproliferative disorders, such as polycythemia vera or essential thrombocythemia, but these cases are probably misdiagnosed CML. It is rarely observed in myelodysplastic syndrome.
---
Did this answer your question?
Additional feedback? (Optional)
Thank you for your feedback!