Answer
Chronic myelogenous leukemia (CML), also known as chronic myeloid leukemia, is a myeloproliferative disorder characterized by increased proliferation of the granulocytic cell line without the loss of their capacity to differentiate. Consequently, the peripheral blood cell profile shows an increased number of granulocytes and their immature precursors, including occasional blast cells. CML accounts for 20% of all leukemias affecting adults. See the image below.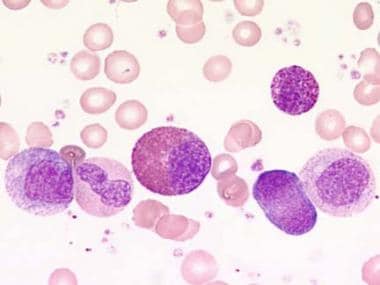 Chronic myelogenous leukemia. Blood film at 1000X magnification demonstrates the whole granulocytic lineage, including an eosinophil and a basophil. Courtesy of U. Woermann, MD, Division of Instructional Media, Institute for Medical Education, University of Bern, Switzerland.
See Chronic Leukemias: 4 Cancers to Differentiate, a Critical Images slideshow, to help detect chronic leukemias and determine the specific type present.
---
Did this answer your question?
Additional feedback? (Optional)
Thank you for your feedback!