Answer
In 1903, Robert Osgood (1873-1956), a US orthopedic surgeon, and Carl Schlatter (1864-1934), a Swiss surgeon, concurrently described the disease that now bears their names. Osgood-Schlatter disease (OSD) is a common causes of knee pain in active adolescents.
OSD is a traction phenomenon resulting from repetitive quadriceps contraction through the patellar tendon at its insertion upon the skeletally immature tibial tubercle. This occurs in preadolescence during a time when the tibial tubercle is susceptible to strain. The pain associated will be localized to the tibial tubercle and occasionally the patellar tendon itself. A similar process can occur at the patella-patellar tendon junction, which is referred to as Sinding-Larsen-Johansson syndrome (the adolescent equivalent of jumper's knee). [1] (See the images below.)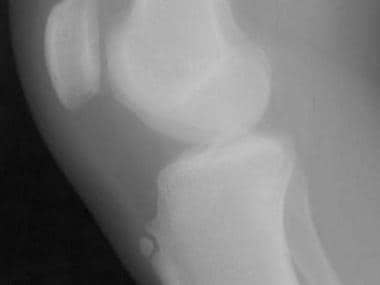 Radiograph of a patient who is skeletally mature. Note that the tibial tubercle is enlarged and there is an ossicle. A bursa was overlying this.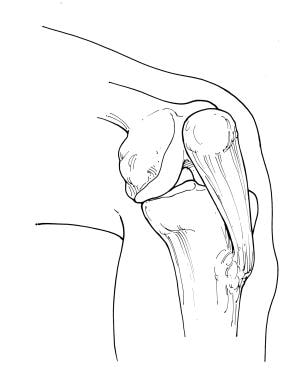 Image courtesy of John T. Killion, MD; OSA Pediatric Orthopaedics
Image courtesy of John T. Killion, MD; OSA Pediatric Orthopaedics
OSD is a very common cause of knee pain in children aged 8-15 years. This condition can have a prolonged course and cause loss of time from athletics. However, it is rarely a cause of permanent impairment or disability. (See Etiology and Prognosis.)
Because of a lack of a precise etiology and therefore definition, some practitioners may find differentiating OSD from avulsion fractures of the tibial tubercle to be difficult. In general if the patient is unable to ambulate, an acute avulsion fracture of the tibial tubercle is more likely. OSD patients typically can ambulate, albeit with pain. (See Physical Examination and Differentials.)
The onset of OSD is usually gradual, with patients commonly complaining of pain in the tibial tubercle and/or patellar tendon region after repetitive activities. Typically, running or jumping activities that significantly stress the patellar tendon insertion upon the tibial tubercle aggravate the patient's symptoms. They may even have waxing and waning of symptoms that correspond to variations in their athletic seasons. A sudden onset of pain with no antecedent symptoms in the region of the tibial tubercle should alert the clinician to assess for a possible acute tibial tubercle avulsion rather than OSD. (See History.)
OSD is a self-limiting condition. In a study by Krause et al, 90% of patients treated with conservative care were relieved of all of their symptoms approximately 1 year after onset of symptoms. [3] After skeletal maturity, patients may continue to have problems kneeling. This typically is due to tenderness over an unfused tibial tubercle ossicle or a bursa that may require resection. [4] Minimal association seems to exist between residual anterior knee pain after OSD and patellar stability, as was noted in the Krause study. The authors also noted no cases of recurvatum from premature closure of the proximal tibial physis. (See Prognosis.)
---
Did this answer your question?
Additional feedback? (Optional)
Thank you for your feedback!