Answer
The disorder is X-linked, with the FIX gene located on the long arm of the X chromosome. Consequently, males with hemophilia B usually are symptomatic, while females usually are silent carriers (no bleeding disorder).As demonstrated in the diagram below, all female offspring of a male with hemophilia B are obligatory carriers, while no male offspring are carriers. Chances are 50/50 that each female offspring of a carrier female is a carrier and 50/50 that each male offspring of a carrier has hemophilia.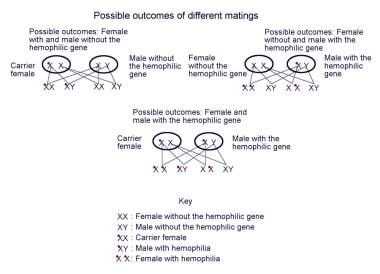 Possible genetic outcomes in individuals carrying the hemophilic gene.
Carrier females usually are asymptomatic but can have bleeding (eg, easy bruising, menorrhagia, or excess bleeding after trauma) when they have significant reductions in FIX levels, which are caused by the greater (extreme) inactivation of the normal FIX gene, compared with the hemophilic FIX gene, during early embryogenesis. Other reasons a female may have clinical bleeding resulting from reduced levels of FIX include X-mosaicism, Turner syndrome, testicular feminization, or situations in which the father has hemophilia B and the mother is a carrier for the disorder. Carriers with basal levels of FIX of less than 30% can be expected to have a clinically evident bleeding disorder.
---
Did this answer your question?
Additional feedback? (Optional)
Thank you for your feedback!