Answer
The most significant breakthroughs in comprehending the mechanisms associated with coagulation first came from an understanding of the individual causes of the bleeding disorders. Hemophilia B was differentiated from hemophilia A in 1952, when it was found that mixing plasma from patients with the two conditions corrected the clotting time. The hemophilia B patient in that study had the surname Christmas, and hence the disorder became known as Christmas disease.
The existence of inherited bleeding disorders in males had long been recognized, however. The newspaper item below demonstrates what appears to be a late 19th-century record of hemophilia passed from mother to sons.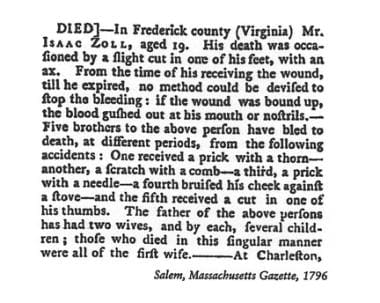 Obituary in the Salem Gazette (Massachusetts) of a 19-year-old man, March 22, 1796.
---
Did this answer your question?
Additional feedback? (Optional)
Thank you for your feedback!