Answer
Among patients with a hyperplastic bone marrow and decreased production of RBCs, one group has an excellent prognosis, and the other is unresponsive, refractory to therapy, and has a relatively poor prognosis. The former includes patients with disorders of relative bone marrow failure due to nutritional deficiency, in whom identification of the etiology and treatment with vitamin B-12, folic acid, or iron leads to a correction of anemia once the appropriate etiology is established. Drugs acting as an antifolic antagonist or inhibitor of DNA synthesis can produce similar effects.
The second group includes patients with an idiopathic hyperplasia that may respond partially to pyridoxine therapy in pharmacologic doses but more frequently does not. These patients have ringed sideroblasts in the bone marrow, indicating an inappropriate use of iron in the mitochondria for heme synthesis.
Certain patients with marrow hyperplasia (see the image below) may have refractory anemia for years, but some of the group eventually develop acute myelogenous leukemia.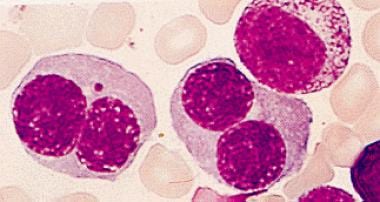 Bone marrow aspirate showing erythroid hyperplasia and many binucleated erythroid precursors.
---
Did this answer your question?
Additional feedback? (Optional)
Thank you for your feedback!