Answer
In some instances, EVAR can result in endoleaks, which represent continued pressurization of the sac (see the image below). Aneurysm sacs may also demonstrate elevated pressure despite the absence of a demonstrable endoleak. This phenomenon has been referred to as endotension.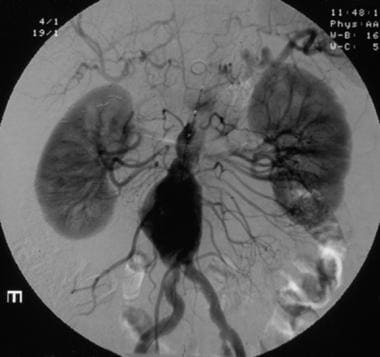 Angiography is used to diagnose renal area. In this instance, endoleak represented continued pressurization of sac.
Persistently elevated aneurysm sac pressure, whether secondary to endoleak or to endotension, is worrisome because it may progress to AAA expansion and rupture. Early data demonstrated a need for secondary interventions, via endovascular techniques, in as many as 30% of patients over a 6-year period, compared with 10% over a comparable period for open repair. Improvement has been made in the rate of secondary interventions after EVAR, but long-term durability has yet to be determined.
Endoleaks can be classified into four different types, as follows [39] :
Type I - Blood flow into the aneurysm sac due to incomplete seal or ineffective seal at the end of the graft; this type of endoleak usually occurs in the early course of treatment but may also occur later

Type II - Blood flow into the aneurysm sac due to backflow from collateral vessels (eg, lumbar or inferior mesenteric arteries)

Type III - Blood flow into the aneurysm sac due to inadequate or ineffective sealing of overlapping graft joints or rupture of the graft fabric; again, this type of endoleak usually occurs early after treatment, as a consequence of technical problems, or later, as a result of device breakdown

Type IV - Blood flow into the aneurysm sac due to the porosity of the graft fabric itself, causing blood to pass through from the graft and into the aneurysm sac
---
Did this answer your question?
Additional feedback? (Optional)
Thank you for your feedback!