Answer
EVAR (see the image below) first became practical in the 1990s, as performed by Parodi et al, [36] and has since become an established and increasingly popular alternative to open repair. In 2006, EVAR overtook open repair, with 21,725 procedures performed. [14, 37, 33] The combination of screening, reduced preoperative risk, and advances in minimally invasive endovascular techniques has extended AAA treatment to an increasingly elderly population.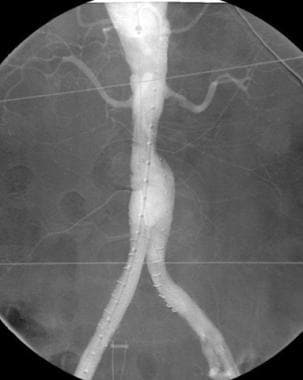 Arteriogram after successful endovascular repair of abdominal aortic aneurysm.
---
Did this answer your question?
Additional feedback? (Optional)
Thank you for your feedback!