Answer
Because of advances in CT imaging with 3D reconstruction capability, angiography (see the images below) currently is less often used in preoperative evaluation of AAA than it once was. Arteriography may miss an AAA if there is a lack of calcification because of the laminated thrombus within the AAA making a more normal-appearing aortic lumen. It is primarily used intraoperatively to facilitate endovascular repair.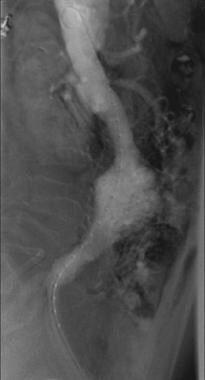 Lateral arteriogram demonstrates infrarenal abdominal aortic aneurysm. Demonstration of superior mesenteric artery, inferior mesenteric artery, and celiac artery on lateral arteriogram is important for complete evaluation of extent of aneurysm.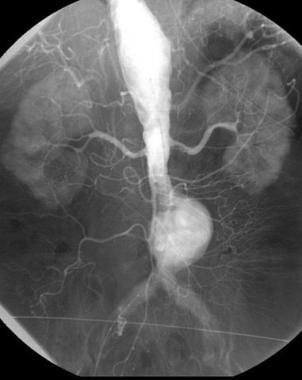 Arteriography demonstrates infrarenal abdominal aortic aneurysm. This arteriogram was obtained in preparation for endovascular repair of aneurysm.
---
Did this answer your question?
Additional feedback? (Optional)
Thank you for your feedback!