Answer
CT has a sensitivity of nearly 100% for detecting AAA, and it has certain advantages over ultrasonography for defining aortic size, rostral-caudal extent, involvement of visceral arteries, and extension into the suprarenal aorta (see the image below). CT permits visualization of the retroperitoneum, is not limited by obesity or bowel gas, detects leakage, and allows concomitant evaluation of the kidneys. Spiral (helical) CT allows three-dimensional (3D) imaging of abdominal contents, facilitating detection of branch vessel and adjacent organ involvement.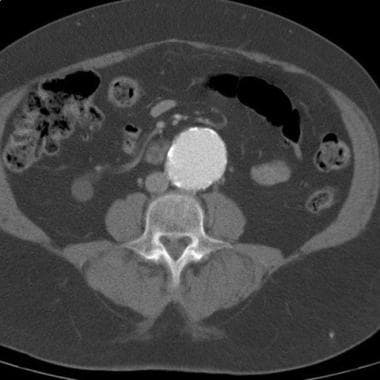 CT demonstrates abdominal aortic aneurysm (AAA). Aneurysm was noted during workup for back pain, and CT was ordered after AAA was identified on radiography. No evidence of rupture is seen.
Preoperative CT is helpful for more clearly defining the anatomy of the aneurysm and other intra-abdominal pathologic conditions. Nonenhanced CT is used to size aneurysms. [16] As important as sizing the aneurysm is determining the anatomic relations that are relevant to surgical repair. These include the location of the renal arteries, the length of the aortic neck, the condition of the iliac arteries, and the presence of anatomic variants such as a retroaortic left renal vein or a horseshoe kidney.
Enhanced spiral CT of the abdomen and pelvis with multiplanar reconstruction and CT angiography (CTA) is the modality of choice for preoperative evaluation for open and endovascular repair (see the image below).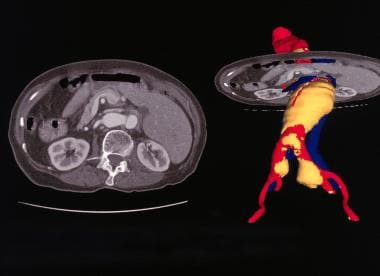 Enhanced spiral CT scans with multiplanar reconstruction and CT angiogram.
---
Did this answer your question?
Additional feedback? (Optional)
Thank you for your feedback!