Answer
Plain radiography is often performed on patients with abdominal complaints before the diagnosis of AAA has been entertained. Using this method to evaluate patients with AAA is difficult because the only marginally specific finding, aortic wall calcification, is seen less than half of the time. Aortic-wall calcification (see the images below) may appear without aneurysm rim calcification, resulting in a high false-negative rate.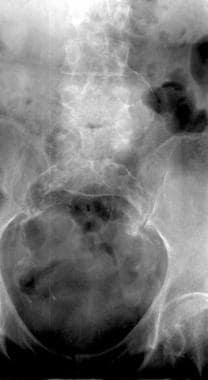 Radiograph shows calcification of abdominal aorta. Left wall is clearly depicted and appears aneurysmal; however, right wall overlies spine.
On radiography, lateral view clearly shows calcification of both walls of abdominal aortic aneurysm, allowing diagnosis to be made with certainty.
Plain radiography should not, however, be ordered for the sole purpose of evaluating suspected AAA; because of its low diagnostic yield, its use can waste time, delay care, and place the patient at risk for aortic rupture and death.
Chest radiography may be employed to gain a preliminary assessment of the status of the heart and lungs. Concurrent pulmonary or cardiac disease may have to be addressed before the AAA is treated.
---
Did this answer your question?
Additional feedback? (Optional)
Thank you for your feedback!