Answer
Ultrasonography is the standard imaging tool for AAA (see the image below). When performed by trained personnel, it has a sensitivity of nearly 100% and a specificity approaching 96% for the detection of infrarenal AAA. Ultrasonography can also detect free peritoneal blood.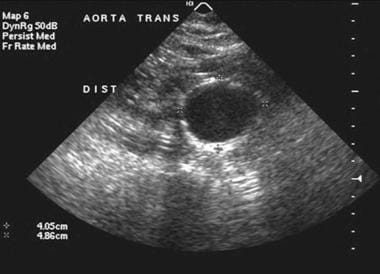 Ultrasonogram from patient with abdominal aortic aneurysm (AAA). This aneurysm was best visualized on transverse or axial image. Patient underwent conventional AAA repair.
Ultrasonography is noninvasive and may be performed at the bedside. Bedside emergency ultrasonography should be performed immediately if AAA is suspected. Elderly patients with abdominal pain are prime candidates for bedside ultrasonography screening. (See Bedside Ultrasonography Evaluation of Abdominal Aortic Aneurysm.)
Screening for AAA reduces the mortality from rupture and is cost-effective. [14] The US Preventive Services Task Force recommends ultrasound screening in men aged 65-75 years who have smoked. [4, 6] Abdominal ultrasonography can provide a preliminary determination of aneurysm presence, size, and extent. In addition, it is a cost-effective modality for monitoring patients whose aneurysms are too small for surgical intervention. It is also useful for follow-up after endovascular surgery to assess the durability of the repair.
Limitations of ultrasonography in this setting are few but include inability to detect leakage, rupture, branch artery involvement, and suprarenal involvement. In addition, the ability to image the aorta is reduced in the presence of bowel gas or obesity.
Significant portions of the abdominal aorta (at least one third of its length) are not visualized on bedside emergency ultrasonography in 8% of nonfasting patients. [15] This rate is higher than reported for fasting patients receiving elective ultrasonography for evaluation of their aortas.
---
Did this answer your question?
Additional feedback? (Optional)
Thank you for your feedback!