Answer
Most clinically significant AAAs are palpable upon routine physical examination; however, the sensitivity of palpation depends on the experience of the examiner, the size of the aneurysm, and the size of the patient. In one study, 38% of AAA cases were detected on the basis of physical examination findings, whereas 62% were detected incidentally on radiologic studies obtained for other reasons.
Abdominal examination includes palpation of the aorta and estimation of the size of the aneurysm. AAAs are palpated in the upper abdomen; the aorta bifurcates into the iliac arteries just above the umbilicus. The clinician need not be afraid of properly palpating the abdomen, because there is no evidence to indicate that aortic rupture can be precipitated by this maneuver.
Whereas the abrupt onset of pain due to rupture of an AAA may be quite dramatic, the associated physical findings may be very subtle. Patients may have normal vital signs in the presence of a ruptured AAA as a consequence of retroperitoneal containment of hematoma.
The presence of a pulsatile abdominal mass (see the image below) is virtually diagnostic of an AAA but is found in fewer than 50% of cases. It is more likely to be noted with a ruptured aneurysm. In an obese abdomen, an AAA is more difficult to palpate. Even in patients known to have an aneurysm, vascular surgeons are unable to palpate a pulsatile mass while preparing the patient for surgery in 25% of cases.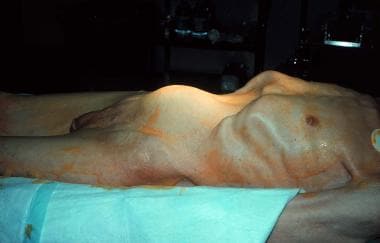 Pulsatile abdominal mass.
---
Did this answer your question?
Additional feedback? (Optional)
Thank you for your feedback!