Answer
AAAs are usually asymptomatic until they expand or rupture. Patients may experience unimpressive back, flank, abdominal, or groin pain for some time before rupture. Isolated groin pain is a particularly insidious presentation. This occurs with retroperitoneal expansion and pressure on either the right or left femoral nerve. This symptom may be present without any other associated findings, and a high index of suspicion is necessary to make the diagnosis.
At times, AAAs may cause symptoms from local compression, including early satiety, nausea, vomiting, urinary symptoms, or venous thrombosis from venous compression. Back pain can be caused by erosion of the AAA into adjacent vertebrae. Other symptoms include abdominal pain, groin pain, embolic phenomena affecting the toes (eg, livedo reticularis, or blue toe syndrome; see the image below), and fever. Occasionally, small AAAs thrombose, producing acute claudication.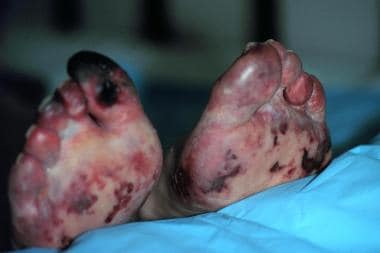 Atheroemboli from small abdominal aortic aneurysms produce livedo reticularis of feet (ie, blue toe syndrome).
Patients may describe a pulse in the abdomen and may actually feel a pulsatile mass.
It is important to note progressive symptoms, which should alert the clinician to the possibility of expansion with imminent rupture. An expanding AAA commonly causes sudden, severe, and constant low back, flank, abdominal, or groin pain. Syncope may be the chief complaint, with pain less prominent.
---
Did this answer your question?
Additional feedback? (Optional)
Thank you for your feedback!