Answer
Answer
There are no unique clinical features associated with the various types of acute leukemias of ambiguous lineage (ALALs). Generally, patients with ALAL have a poor prognosis. Factors that increase the mortality risk in the geriatric population include age older than 80 years and not receiving chemotherapy. [6]
The blasts of acute undifferentiated leukemia (AUL) clearly have no morphologic features of myeloid or lymphoid differentiation (see the image below).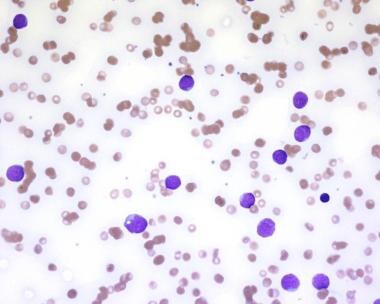 Pathology of Acute Leukemias of Ambiguous Lineage. Blasts of acute undifferentiated leukemia.
The MPALs with t(9;22) q34;q11.2) (or BCR-ABL1 rearrangement) and the MPALs with t(v;11q23) (or KMT2A (MLL) rearrangement) commonly have a dimorphic blast population. One such population resembles lymphoblasts, and the other resembles myeloblasts or monoblasts (see the following image).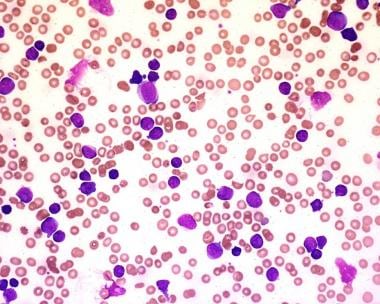 Pathology of Acute Leukemias of Ambiguous Lineage. Blasts of mixed phenotype acute leukemia with t(4;11q23).
As mentioned above, the MPALs (B/myeloid and T/myeloid) are biphenotypic or of mixed lineage. As such, in most cases, either the blasts have no distinguishing morphologic features (ie, undifferentiated blasts), or the blast populations are dimorphic, with features of lymphoblasts and myeloblasts.
---
Did this answer your question?
Additional feedback? (Optional)
Thank you for your feedback!